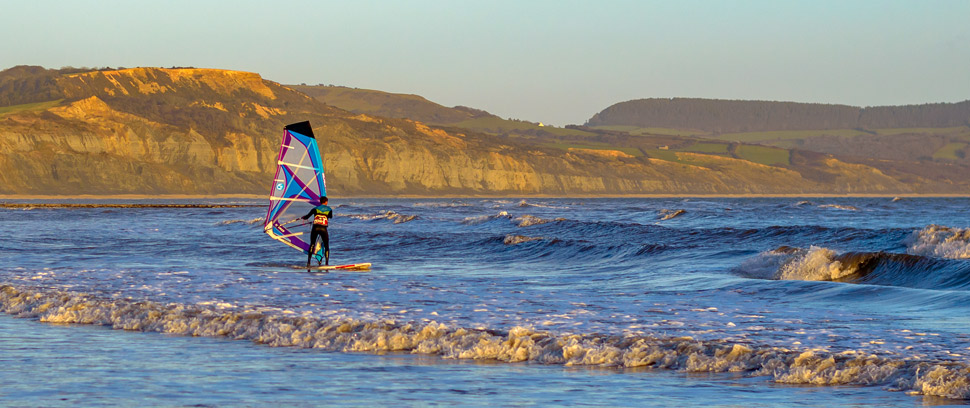 Yes, we know that holidays are meant for relaxing – but some of you just can't sit still for more than a couple of days! So, those of you programmed to be always on the go will be pleased to know that there are plenty of opportunities for keeping active whilst you are here in Dorset.
Those considering following in the wake of Olympic gold medallist Ben Ainslie can try their hand at a spot of sailing at the Weymouth & Portland Sailing Academy, where lessons for all ages and abilities are available. Alternatively, wind and kite surfing can be just as exhilarating and it's surprising how many muscles you work out trying to twist and turn with the breeze.
If you are new to water sports then stand-up paddle boarding might be a good place to start. Gaining rapidly in popularity it can be enjoyed even on the calmest of days; in fact that's the ideal conditions for beginners trying to get their balance just right!
SCUBA diving in Dorset is also very popular, and the many wrecks lying on the seabed off the coastline provide some interesting dives. One of the local dive schools can get you started if you're new to the sport. If you are already qualified then why not join a charter boat dive whilst you are here.
Whether you like to keep up your fitness levels in a gym, enjoy a bracing walk, or prefer to cycle, play golf or horseback ride, there are plenty of activities on terra firma too. The South West Coast Path is a stunning walking route with fabulous sea views and plenty of access points along its length. Visit www.southwestcoastpath.org.uk to find out more.
Quad biking is great fun and something older children can have a go at too. Try your hand at clay shooting or perhaps get to grips with a bow and arrow or crossbow for some target practice.
Your Dorset Activities Checklist...
There are so many activities in Dorset, do you have a favourite? Comment below.
Photo (top): Chris Jones