Afternoon Tea in Dorset
15 August 2017
It's Afternoon Tea Week! We find out where to go in Dorset to enjoy this tasty tea-time tradition, and discover a little slice of history along the way.
"There are few hours in life more agreeable than the hour dedicated to the ceremony known as afternoon tea." – Henry James, Author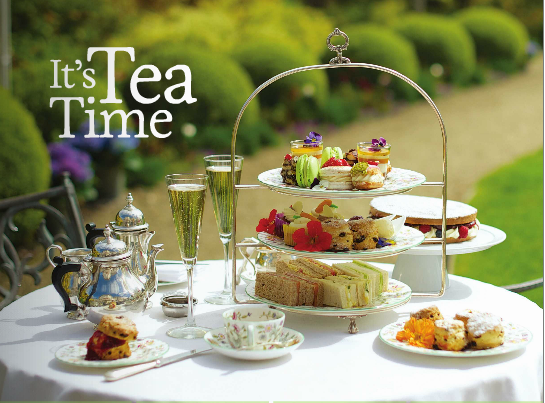 Britain has some brilliantly bizarre food traditions from cheese rolling to pancake racing but there's no tastier – and less energetic – tradition than Afternoon Tea. And around Dorset there are some wonderful venues that provide this little edible slice of history.
Stepping back in time for a moment, before the introduction of this tea in the 1840s, the two main meals of the day were breakfast and dinner. The timing of the latter however was pushed back later and later to accommodate work schedules of the lower classes who wanted to fit a good meal in at the end of the working day, and for the wealthier types whose days were more leisurely, dinner wasn't served until 8 or 9pm. With such a long time between meals, it's no wonder the Duchess of Bedford always had a 'sinking feeling' mid-afternoon, so to counteract this, she invited friends to her rooms at Belvoir Castle around 4pm to feast upon a course of small cakes, sandwiches and sweets, served with pots of tea. With the aristocratic circles taking note and following suit, it soon became highly fashionable, and so the Afternoon Tea was born.
Afternoon Tea hasn't altered much from the Duchess' days, and across Dorset there are some fabulous restaurants, tea rooms and lodges that offer a real treat for your taste buds:
· Head to Portland to Mary's Tea Room at Chiswell, Portland – it's a great place to while away an afternoon.
· Moonfleet Manor provides a perfect tea-time backdrop overlooking the world-famous Chesil Beach and Fleet Lagoon.
· Comins Tea House at Sturminster Newton serves delicious locally-sourced produce alongside their fine selection of loose-leaf teas.
· Escape to the countryside with Worth Matravers Tea & Supper Room in Swanage where all their scones and cakes are made using local ingredients.
· The Alexandra Hotel in Lyme Regis offers a wonderful range of afternoon teas overlooking the beautiful bay.
· Enjoy some five-star country charm with your Tea at the Grade II Listed Summer Lodge Country House Hotel.
Please share or leave a comment
Latest Features
Places to Go
Find places to go and things to do in Dorset using the options below.
Dorset Events