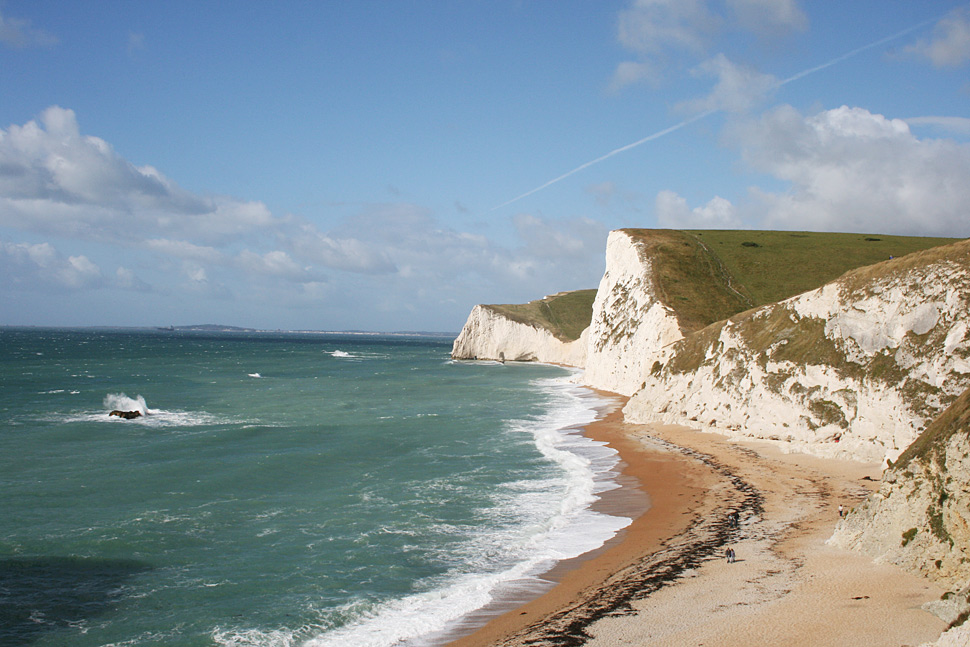 Whilst Dorset's Jurassic Coast is first and foremost one of the most significant Earth science sites in the world, it's also rather beautiful.
Inscribed on UNESCO's World Heritage Site list in 2001, the listed coastline extends for 95 miles, from Old Harry Rocks in Dorset to Orcombe Point in East Devon. The geology, which is exposed in the cliffs, is a near-continuous sequence of rocks that reveal 185-million years of the Earth's history, through the Triassic, Jurassic and Cretaceous periods of geological time.
Shaped by the force of the sea are some of our most iconic landmarks. One of the most dramatic sights along the Jurassic Coast is the stacks at Ladram Bay, East Devon. The stacks were formed from caves that over time were hollowed out by the sea, they then became arches which eventually collapsed and formed the stacks we see today. The red colour of both the stacks and the cliffs is due to iron minerals that have weathered over time, telling us that the land was once a hot, desert area.
Lyme Regis is a popular seaside town for many reasons, but it's also one of the best places to find the fossils of marine creatures such as ammonites and squid-like belemnites. Fossil hunting is something the whole family can enjoy and the best results are achieved by accompanying an experienced fossil hunter, which you can do both in Lyme Regis and at nearby Charmouth.
The single largest feature of the coast is the impressive Chesil Beach. The pebbles vary in size from large cobbles at Portland and gradually decrease in size as you go along the coast until you reach West Bay where they are pea sized.
The magnificent arch of Durdle Door lies close to Lulworth Cove, where a famous Fossil Forest can be seen on the cliff edge to the east. The forest is made up of giant doughnut-shaped structures with a hole in the centre where trees once grew. Above the Fossil Forest lie the Purbeck Beds, a series of rocks that formed when conditions were harsh and hot and where dinosaurs once roamed, leaving their footprints in the sediments to be discovered millions of years later.
Along the Jurassic Coast you may spot dolphins dancing in the waves, basking sharks out in the deeper water, not to mention the hundreds of different types of birds that have made this place their home.
People have been visiting this part of the country and enjoying all it can offer for centuries. And if you enjoy walking, the South West Coast Path covers all 95 miles, so you will not miss a thing!
What to see and do on Dorset's Jurassic Coast