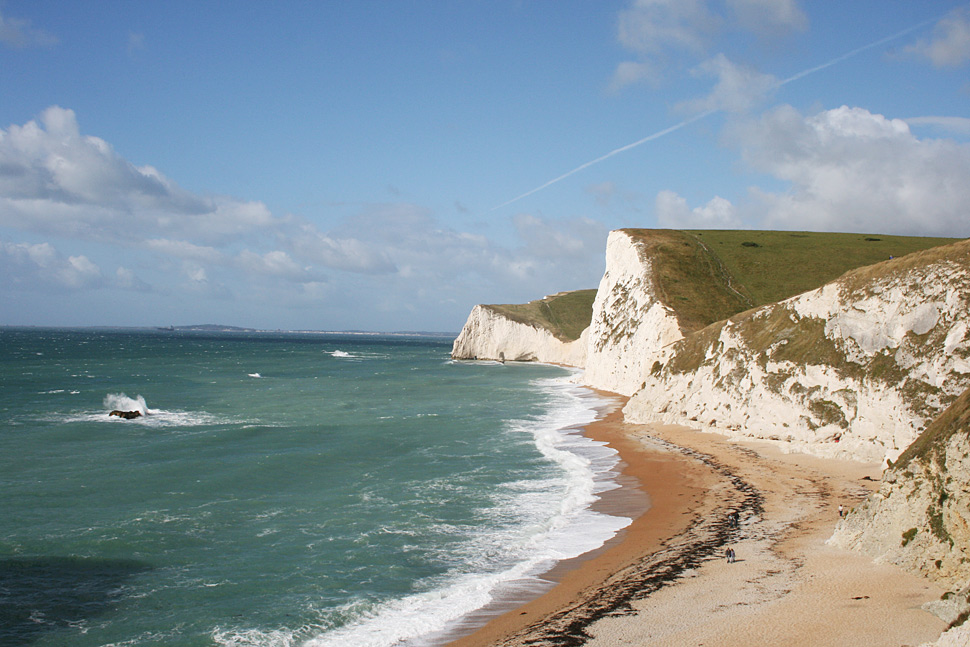 Dorset's Jurassic Coast, the Natural World Heritage Site and the only one of its kind in England, covers around 95 miles of stunningly beautiful coast and is rich in geological importance, which represents 185 million years of earth history. It displays not just superb Jurassic, but older Triassic and younger Cretaceous rocks too.
This international recognition, which many agree is long-awaited and much deserved, places the coastline alongside some of the most famous and familiar names in the world such as the Great Barrier Reef, the Great Wall of China, the Galapagos Islands, the Acropolis and the Taj Mahal.
Many sections of this coast and countryside have already been nominated Areas of Outstanding Natural Beauty, Sites of Special Scientific Interest or Heritage Sites and the wealth of wildlife here is widely recognised.
Along the Jurassic Coast you may spot dolphins dancing in the waves; basking sharks out in the deeper water, not to mention the hundreds of different types of birds that have made this place their home.
And the beauty of the area is no secret - people have been visiting this part of the country and enjoying all it can offer for centuries.
This has led to a wide range of holiday and visitor opportunities, with the World Heritage Coast providing something here for everyone - and for once this cliché is true.
For those seeking peace and quiet then the countryside of East Devon, South and West Dorset awaits you, with its rolling green hills and pretty villages offering great walks as you explore the countryside, plus some lovely country pubs and lots of restaurants to refresh you.
The Jurassic Coast is well served by the resorts for which the area is so rightly renowned. They all have very different characters, some lively and cosmopolitan while others are more traditional, but they complement each other in many ways.
One thing they do have in common is some of the best beaches in Great Britain, many of which have won awards for their cleanliness. They offer a wealth of activities such as scuba diving, snorkelling, sea angling, sailing and windsurfing. And of course there is always sandcastle making and paddling, and just plain messing about in the water!
There are many different types of holiday accommodation to choose from, including the many top quality hotels on offer on this website, plus an excellent selection of guest houses to suit nearly any budget.
There is also a great range of self-catering establishments, such as holiday parks, farm and country cottages, touring parks and holiday flats.
While visiting this internationally acclaimed coastline and its countryside, there are many quality visitor attractions for you to explore. These include ancient castles, gardens, bird sanctuaries, animal rescue centres, aquariums, heritage railways, historic buildings and museums plus boat trips along the coast so you can see for yourself what all the fuss is about. And if you enjoy walking the South West Coast Path covers all 95 miles so you will not miss a thing!
As you explore the Jurassic Coast you will see for yourself why this internationally important place has become England's first natural World Heritage Site. You can find out more about what the World Heritage Coast can offer you as a visitor by looking at the individual town pages on this website. Alternatively, contact any of the Tourist Information Centres listed on the relevant page and ask about the Jurassic Coast mini guide. These centres also provide safety advice for anyone interested in geology and fossil hunting. All visitors should also be aware of the need to conserve this spectacular World Heritage Site itself.