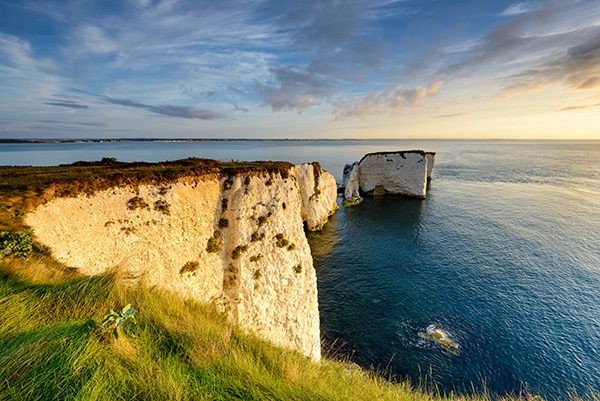 Old Harry Rocks is a unique structure that consists of separated white chalk stacks, and it marks the east point of the 95 mile stretch of Jurassic Coast. In the 18th Century, Old Harry had a partner stack known as its 'wife' – yet this no longer exists due to natural erosion.
But, Old Harry Rocks stand strong, offering a great place to watch the to and fro of ferries as they make their way in and out of Poole Harbour, often visiting Jersey and Cherbourg in France.
Before visiting, it's worth gaining an insight into how Old Harry Rocks was formed and reading some useful information.
How was Old Harry Rocks formed?
The three chalk stacks were once joined, where a long stretch of chalk lied between Purbeck and the Isle of Wight. Due to the force of the ocean, sea began to enter cracks in the chalk structure and eroded certain areas, leaving what we see today – Old Harry Rocks. You'll notice that some short stacks remain, where their height caused them to collapse when the rock was weakened.
Why is it called Old Harry Rocks?
A number of legends answer why the stacks of chalk were named 'Old Harry Rocks'. Was it because the devil, Harry, slept on the rocks? Was it because Harry Paye, a Poole pirate hid his ship behind the rocks from merchantmen? Or, was it because Harold the Viking was drowned there during a storm? We'll let you decide…
How to get there
Old Harry Rocks is situated just off of Studland Bay, so you'll be sure to find it when navigating to Studland. The closest car park, South Beach Car Park, is just a short walk away from Old Harry Rocks. For this car park, navigate to BH19 3AU.
Map of Old Harry Rocks
Please share or leave a comment
More Places of Interest
Places to Go
Find places to go and things to do in Dorset using the options below.
Dorset Events
Sign up for Resort Dorset offers, events and news by email
Your data will only be used to send relevant information relating to Resort Dorset magazine and digital platforms. We will not share your data with any third parties, and you can of course unsubscribe at any time. Please see our full
privacy policy here
.