COVID-19: Enjoy Dorset responsibly. Please follow government advice on restrictions and social distancing. Prior to travel, please check with individual businesses and event organisers for confirmation of opening times and restrictions.
Visit Durdle Door and discover Dorset's most famous landmark. This spectacular natural wonder is a real highlight of the Jurassic Coast, and the surrounding area has lots to offer too – there are some wonderful walks, charming villages and of course unrivalled scenery to take in.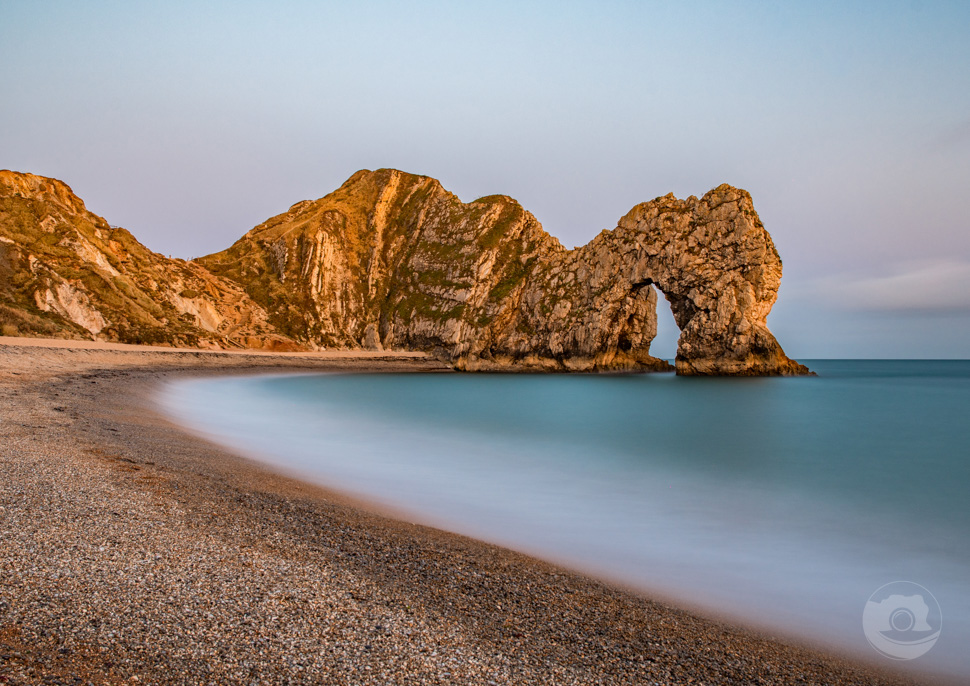 The name Durdle derives from an Old English word 'thirl' meaning bore or drill. Eventually the arch will collapse to leave a sea stack such as those that can be seen at Ladram Bay in East Devon.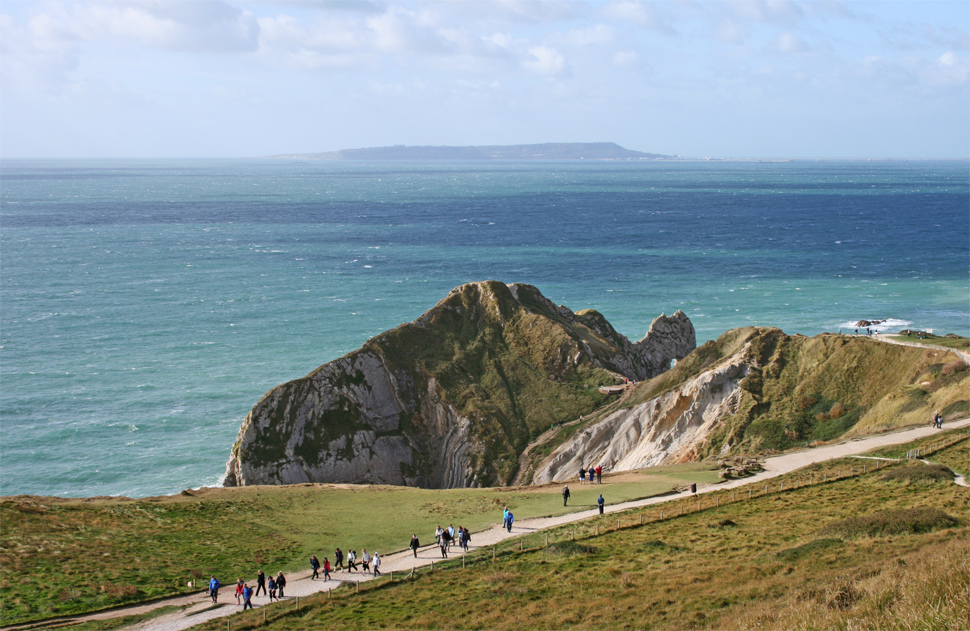 Below the cliffs lies a sweeping shingle beach that was once three separate coves. This popular beach has no facilities although during the summer a mobile kiosk on the path leading to Durdle Door provides ice creams and refreshments. It is possible to swim in the area, although there are steep ledges in places and there is no lifeguard on duty here so great care must be taken. You will also notice some caves which have formed at the base of the cliffs, please keep clear of these as there have been a number of cliff falls in recent years.
The location is often found in popular culture. Scenes from the 1967 film of Thomas Hardy's novel 'Far From the Madding Crowd' were filmed here, and in 1997 parts of the film 'Wilde' starring Stephen Fry were also shot here.
Many may recall Cliff Richards' 1990 hit 'Saviour's Day' which saw Cliff singing both down on the beach and on the clifftop in the promotional video. And later, Tears for Fears shot parts of their video to promote 'Shout' at this iconic arch.
Whether you plan to walk along the coastal footpaths or simply take a picnic to Durdle Door beach, a visit to this stunning location will stay long in the memory.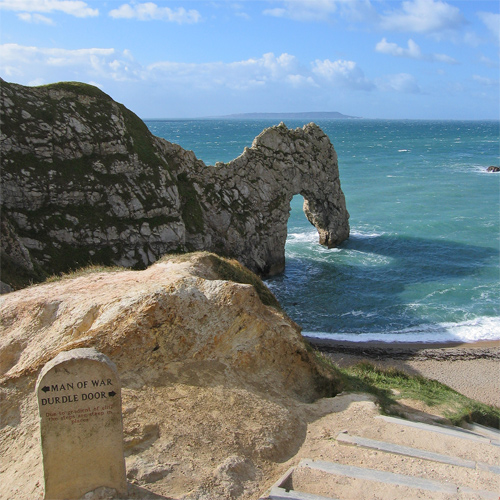 How Was Durdle Door Formed?
Geologists suggest that the rock arch in the sea (or is it a dragon drinking water?!) was formed as a result of softer rock eroding behind hard limestone, allowing the sea to punch through. The arch itself is formed from a rock layer standing almost vertically - as Internet Geography states, only plate tectonics can cause such a formation.
Interesting Facts
Legend has it, the rocks are approximately 140 million years old.
The structure is about 200 feet tall.
The first time it appeared on the Ordnance Survey Map, way back in 1811, it was called Dirdale Door.
The footpath from Lulworth Cove is used by over 200,000 people each year - the busiest across the whole of the South West.
It's a great spot for music videos, used by Billy Ocean and Tears for Fears. The Jurassic Coast is home to other famous music videos too.
Things to do at Durdle Door
When arriving at either the car park or from an alternative route such as the walking trail from Lulworth Cove, you simply can't turn back without going down to explore what there is to offer.
As you begin your walk from the top of the hill, you can admire the panoramic views of the Jurassic Coastline and look out to the Isle of Portland (if it's not too foggy!) as you descend. After a 5-10 minute walk, you'll pass a semi-rounded cove which is home to Man o'War Beach. The pathway on the cliff-top divides Man o'War Beach and Durdle Door, so it's definitely worth taking a little detour to embrace the beauty of Man o'War Beach. There's a concrete view point at the top if you'd rather not make the journey down to the beach and back up again.
Upon reaching the arch, take a few minutes or more to admire what's regarded as the South Coast's greatest landmark before taking the steps down to the beach. Although the steps are safe and well looked after, please take extra care when using them.
Arriving at the beach really gives you that 'wow' factor. You are literally a stone's throw away from the landmark that you see so many times photographed - it's pretty hard to miss on social media! When the weather is warm, it's easy to spend a whole day down on the shingle beach – you simply won't forget it. You can get up to all the usual beach activities; go for a swim or a paddle, take a picnic and soak up the sun. Please be advised that the area is not lifeguarded, so it is recommended that only stronger bathers enter the water. If the weather isn't so warm, it's still worth taking a seat on the beach, admire the breath taking views and take a few photos. Top things off by packing a flask of tea before your visit so you can sip on a cuppa' in front of Durdle Door - how about that?
After leaving when you wish, making your way back up the steps and the hill may be a bit more of a challenge – but don't let this put you off, it's not too bad at all, and a trip to Durdle Door is ALWAYS worth it!
Directions:
From Bournemouth - take the A35 towards Dorchester, turning left onto the A351 towards Wareham. Turn onto the A352 signposted to Wool then follow the brown signs.
From Dorchester - take the A352 signposted for Wool and Wareham. Towards Wool follow the brown signs.
From London - from the M25 exit onto the M3. Merge onto the M27 and continue on the A31 until you reach Bere Regis, at which point turn left at the roundabout onto the A35, then right at the next roundabout. Turn left onto Southbrook and follow the road until you reach the A352. Turn right here and go through Wool, turn left past the Red Lion pub and follow the brown signs.
Access and car parking is via the nearby Holiday Park which leads to a pay and display car park at the top of the cliffs (postcode for sat nav is BH20 5PU).
View the map below
Things to Do Nearby:
Photo (top): Chris Jones
Please share or leave a comment
More Places of Interest
Places to Go
Find places to go and things to do in Dorset using the options below.
Dorset Events
Sign up for Resort Dorset offers, events and news by email
Your data will only be used to send relevant information relating to Resort Dorset magazine and digital platforms. We will not share your data with any third parties, and you can of course unsubscribe at any time. Please see our full
privacy policy here
.