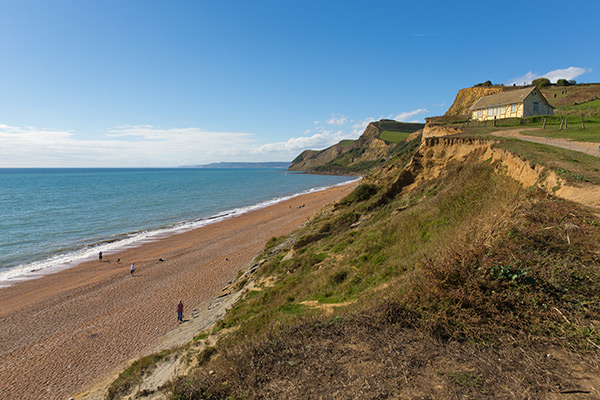 We counted Eype Beach as one of Dorset's hidden gems – simply because it really is a gem.
Nearby places such as West Bay and Lyme Regis tend to attract lots of visitors (and rightly so), but Eype Beach offers the beauty of the Jurassic Coast except with a little more peace and quiet.
Surrounded by the colourful, scenic cliffs and sitting in front of the Golden Cap, Eype Beach offers just as beautiful views of the coastline.
As a neighbour of Lyme Regis, Eype Beach is also a great place to hunt for fossils, exploring up to 185 million years of the Jurassic Coast's history.
You have to visit Eype Beach, especially if you have you are a dog owner. The beach is dog friendly all year round, so you and your four legged pooch can enjoy the extensive views at any time, with plenty of room to run around. Dogs, we hope you're hearing this!
Please be advised that the shingle beach means that there is often a deep drop when entering the water. This tends to create a flow of currents, so you should only enter if you are a confident swimmer.
As you approach Eype Beach, you get a true taste of Dorset as you follow the narrow country road towards the beach. Country lanes and beautiful beaches, it doesn't get much better than that.
Map
Please share or leave a comment
More Places of Interest
Places to Go
Find places to go and things to do in Dorset using the options below.
Dorset Events