Water Sports in Dorset
11 February 2018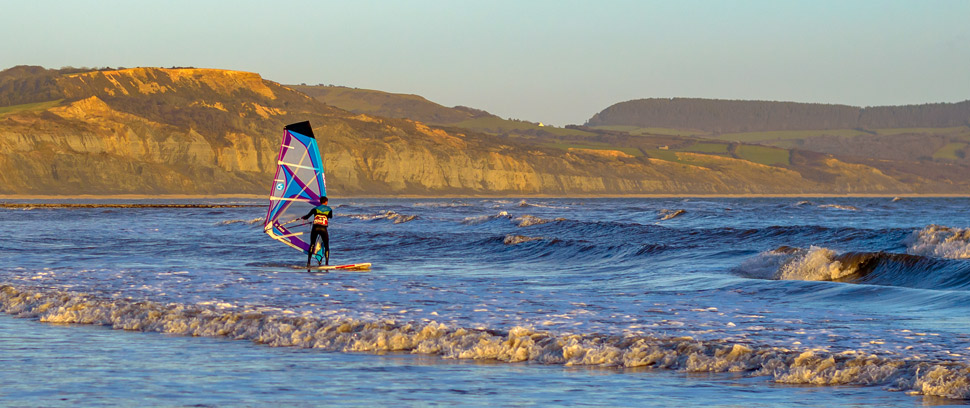 There are many ways to keep active and have fun whilst you are here in Dorset, with the choice of land or sea-based sports offering something for all ages. Of course, water sports are especially appealing to visitors who live inland, and there are numerous ways of getting your toes wet.
Stand-up paddle boarding (SUP) is a good place to begin as almost anyone can give it a try. It looks easy but a couple of hours' tuition with an instructor will give you a head start. Surprisingly, it also gives your body a seriously good workout, as your leg, arm, back and even your toe muscles come into play as you hold your balance.
Kayaking continues to grow in popularity and, like SUP, can be enjoyed on the sea as well as on some rivers and lakes. There are plenty of outlets that offer kayak hire, or you could opt for an accompanied kayak tour along the shoreline, which offers a different perspective of our stunning Jurassic coastline.
If the wind does get up then trying your hand at sailing, kite or windsurfing might be a more exhilarating alternative. Again, if you are new to the sport then start by booking a lesson with a qualified instructor, who will not only show you the ropes but will also ensure you learn the safety aspects of the sport.
With many shipwrecks lying in the waters around Dorset, it's not surprising that scuba diving is popular around here: one of the local dive schools can get you started if you are new to the sport. If you are already a qualified diver then why not join a charter boat dive while you are on holiday.
Other Activitites
If you prefer to keep your feet firmly on the ground there are plenty of thrilling activities to be enjoyed on land. Quad biking is great fun and suitable for older children as well as adults. Open up the throttle and test your driving skills in these all-terrain vehicles – all safety equipment is provided but do wear sensible shoes, you can't drive properly in flip-flops!
Try your hand at clay shooting or archery, you may be quick off the mark but can you keep up the concentration required?
Horse riding, coasteering, bowling, fishing, golf – the opportunities to have a go at something new are seemingly endless. And, of course, there are leisure centres with pools and all the latest fitness equipment should you want to burn off those holiday calories.
Your Dorset Activities Checklist...
There are so many activities and water sports opportunities on offer in Dorset, do you have a favourite? Comment below.
Photo (top): Chris Jones
Please share or leave a comment
Latest Features
Places to Go
Find places to go and things to do in Dorset using the options below.
Dorset Events
Sign up for Resort Dorset offers, events and news by email
Your data will only be used to send relevant information relating to Resort Dorset magazine and digital platforms. We will not share your data with any third parties, and you can of course unsubscribe at any time. Please see our full
privacy policy here
.