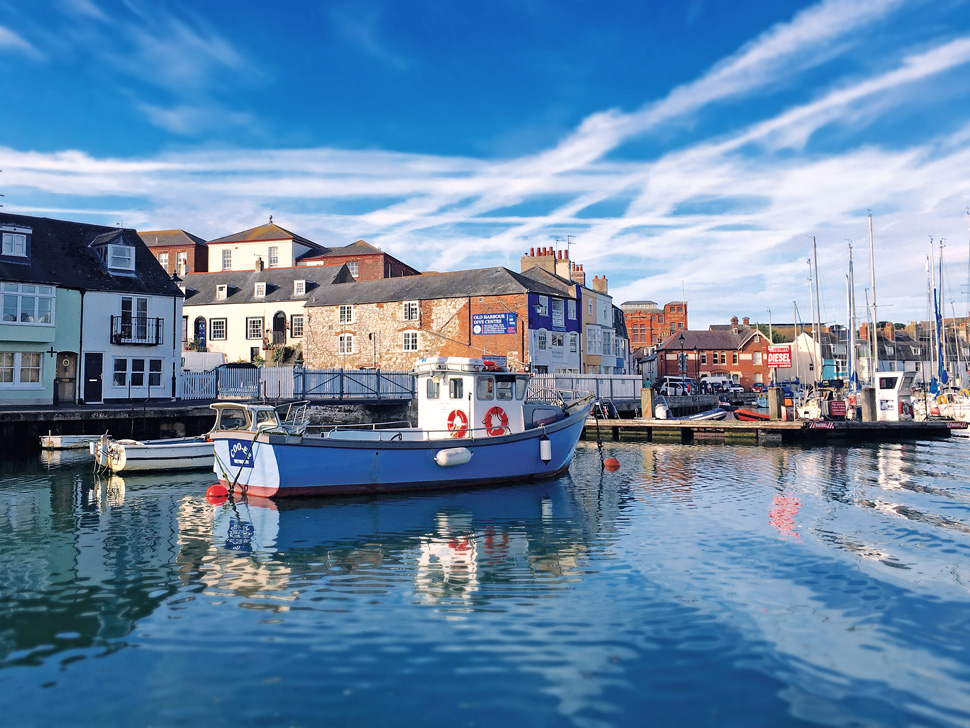 Whilst the beach may be the primary attraction for Weymouth's holiday visitors, the beautiful 17th-century harbour is surely a close runner up! With its small commercial fishing fleet, pleasure boat and charter fishing trips, and privately-owned boats coming and going on the water, there's always something of interest going on.
Even if you don't have the urge to climb aboard one of the boats for a trip out to sea, there are plenty of things to do here on dry land too. The Nothe Fort, situated in the Nothe Gardens, has underground passages to explore and picnic areas on the ramparts; or step back in time by visiting the Tudor House in Trinity Street, furnished in the style of a 17th-century merchant.
A favourite pastime for children (and their parents!) is to drop a crab line from the harbour wall and see what might take the bait. Size matters it seems, and the competitive spirit is much in evidence as there's much peering into other people's buckets to compare catches. Buckets and crab lines are available from local angling shops or some gift shops.
Browse in the delightful gallery and in the small shops along Trinity Road; then head for Hope Square where there's an emporium selling antiques and collectibles.
Small rowing boats take passengers across the harbour, so if you don't fancy walking all the way round you can hop aboard one of these and you'll be on the opposite side in no time.
To allow access to the inner harbour, the Town Bridge is lifted at two-hourly intervals during the summer months. It's one of Weymouth's more unique photo opportunities and fascinating to watch if you've not seen it before.
Newton's Cove, on the far side of the Nothe Gardens, is a great place for would-be naturalists. At low tide the stones can be turned over, revealing small fish and crustaceans wriggling underneath.
But if you're just looking for a place to relax and soak up the pleasure of being by the sea then look no further than Weymouth harbourside. Grab some tasty fish and chips and enjoy them whilst sitting on the harbour walls: please don't feed the seagulls though, as they can get aggressive and make a pleasure a pain.
There's a great choice of character pubs around the harbour, and with many having outside seating you can soak up the sun and the atmosphere whilst sipping your favourite tipple. You certainly won't need to go hungry here either: as well as plenty of delicious fish and chips and pub meals to enjoy, there are several excellent restaurants around the waterside. From relaxed fine dining to perfect pizzas and casual cafes, there is something here to satisfy all tastes.
Talking of tastes, if you love seafood then don't miss the annual Pommery Dorset Seafood Festival which takes place all around the harbourside. With around 100 stalls, most of them selling delicious seafood dishes, it's a really fabulous weekend. Put the date in your diary, 8th & 9th July – champagne and oysters anyone?
Things to do around Weymouth Harbour