COVID-19: Enjoy Dorset responsibly. As the tourist industry begins to re-open, please follow government advice on restrictions and social distancing. Prior to travel, please check with individual businesses and event organisers for confirmation of opening times and restrictions.
Things to do in
Portland
Visitor information for Portland in
Dorset
When you visit the Isle of Portland, stop off at the Chesil Beach Visitor Centre on the causeway, where you'll find lots of information about Chesil Beach and the wildlife that it supports.
You'll also pass the Weymouth & Portland National Sailing Academy, which hosted the Olympic sailing events of London 2012 and still hosts top sailing events throughout the year.
There are several attractions on the island which offer something for all ages: The D-Day Centre offers an immersive, interactive visitor experience that tells the story of embarkation from what the Americans called: 'The world's biggest little port'; Portland Castle is one of Henry VIII's finest coastal forts with views over Portland Harbour; the animals at Fancy's Farm will delight the children and as it's free to wander around it will no doubt delight the adults too; and Portland Museum is packed with artefacts that chart the history, people and culture of the island, and, surprisingly, it has a connection to family planning!
To the right of the Museum is a path and steps that lead down to Church Ope Cove, a sheltered beach that is popular with local residents and was once a smuggling hot spot. The walk down to the beach offers stunning views and it's usually quiet.
Portland Stone has been used in prestigious buildings all around the world, including London's St Paul's Cathedral, and the United Nations Headquarters in New York. Quarrying continues but Tout Quarry, now disused, has become a sculpture park with more than seventy sculptures to be found by walking around the site.
The South West Coast Path goes right around the island and on a clear day you can see the longest stretch of coastline than from any other point on the Path's 630-mile length.
The Visitor Centre at Portland Bill Lighthouse gives an insight into the work of Trinity House, the organisation responsible for the operation of our lighthouses. During the summer, visitors are able to climb the lighthouse steps and marvel at the views.
Close to the Lighthouse is the Portland Bird Observatory: Portland has many sightings of rare birds as they use the island as a stop off point on their migration to warmer climes. Swallows, oystercatchers, short-eared owls and the UK's smallest bird of prey, Merlins, have all been spotted off Portland Bill. The Observatory is open all year round for you to visit and to spot the local wildlife.
With a spa for a spot of pampering, horse riding with fabulous sea views, pubs, cafes and restaurants ready to fulfil your foodie requirements, Portland really does have a lot to offer its visitors.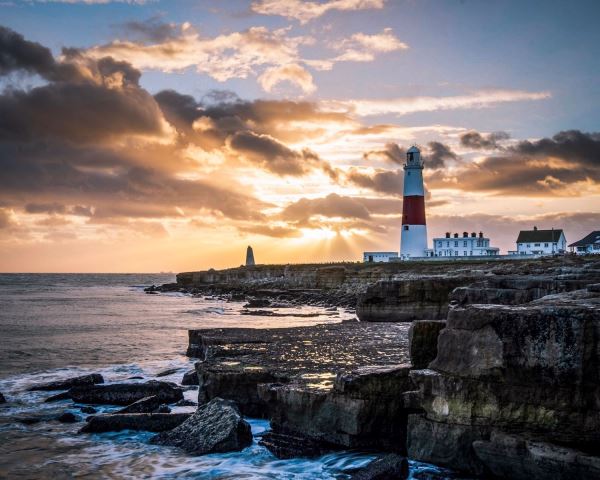 Portland Places of Interest
Places to Go
Find places to go and things to do in Portland using the options below.
You can also explore all of the venues on our Portland Map.
Portland Events
Sign up for Resort Dorset offers, events and news by email
Your data will only be used to send relevant information relating to Resort Dorset magazine and digital platforms. We will not share your data with any third parties, and you can of course unsubscribe at any time. Please see our full
privacy policy here
.