Things to do in
Weymouth
Visitor information for Weymouth in
Dorset
Weymouth has all the ingredients for happy holidays – golden sands and safe, shallow waters, a pretty and atmospheric harbour, fabulous family attractions, water sports galore, cycle and walking tracks, RSPB nature reserves, an excellent choice of pubs and restaurants, tranquil gardens, and a year-round calendar of events that includes music and folk festivals, a fun-packed carnival, vintage vehicle parades, armed forces celebrations, sailing championships and the award-winning Nyetimber Dorset Seafood Festival.
The Pavilion Theatre has a wide variety of entertainment on offer throughout the year, with something for all ages and tastes. There's also a café here which offers lovely views across the bay both from its first floor windows and from outside seating.
Down on the beach there are the traditional seaside donkey rides, swing boats, pedal boats and Punch & Judy to enjoy, while the sand modeller continues to create amazing sculptures out of just sand and water. The convenient beach huts provide all the buckets, spades and refreshments you could want for spending a lazy day in the sun.
If you're looking for things to do in Weymouth, one of the big advantages is that everything is close to hand: once you have parked the car for the day you can soak up the sun on the beach, shop, and visit the family attractions, as all are within walking distance of each other.
Just a stone's throw from the beach is the picturesque harbour, town centre and RSPB reserves, there's something here for everyone. Get your bearings by taking a lofty ride on the Jurassic Skyline, which offers spectacular views right around the bay and beyond.
Weymouth has an abundance of parks and gardens: fly a kite from the grassy clifftop at Bowleaze; enjoy the beautiful floral displays and summer Sunday concerts at Greenhill Gardens; stroll around the Nothe Gardens with its trees, winding paths and picnic areas; discover the often overlooked but pretty Radipole Park Gardens, close to the RSPB reserve at Radipole Lake; or walk along the Rodwell Trail and stop off at Sandsfoot Castle, which is set in tranquil gardens with views across Portland Harbour.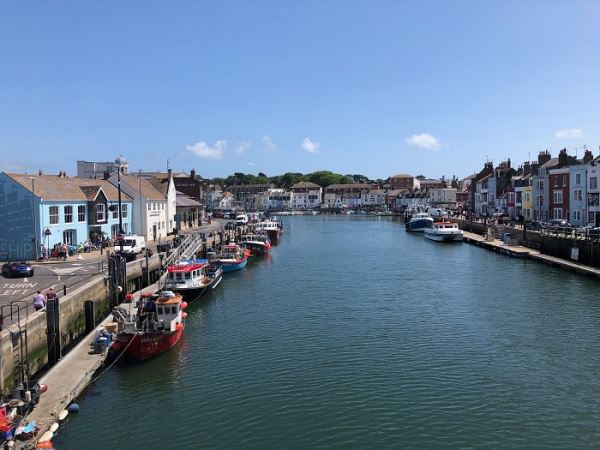 Weymouth Places of Interest
Places to Go
Find places to go and things to do in Weymouth using the options below.
You can also explore all of the venues on our Weymouth Map.
Weymouth Events